Tuesday, October 12, 2010
Friday, July 16, 2010
Dear Board Members, Members and dog lovers:

The Miami Herald recently ran an article about "pit bulls" used as service dogs in Miami Dade County despite the ban on dogs that animal control officers believe look like "pit bulls". We would like to clarify some statements made in the article and correct others.

Miami Dade County's ban on these dogs was grandfathered in when Florida made it illegal to discriminate based on a dog's breed. Dogs that look like pit bulls are protected elsewhere in Florida from discrimination based on breed.

Larry Steinhauser is quoted as saying the pit bulls he has seen are "aggressive". Of course, we don't know whether he has seen one or two or any "pit bulls". People cannot look at most dogs and accurately determine their breed. Recently, in Denver Dr. Victoria Voith did a little test on animal shelter directors, dog trainers and others who work with dogs. They were asked to view 20 dogs on a videotape and identify each one by breed including whether the dog was a purebred or a mix. The professionals were surprised by how few dogs they identified correctly by breed. Voith believes as many as 75% of the pit bull identifications made by shelter workers, animal control or law enforcement are wrong. She is the author of Shelter Medicine: A Comparison of Visual and DNA Identifications of BREEDS of Dogs. As DNA testing becomes more reliable, it is proving that many of the dogs identified as pit bull are actually a mix of dozens of breeds with little or none of the DNA of pit bull type dogs.

That means a lot of dogs condemned by BSL are not even "pit bull" breeds.

In the last two legislative sessions pit bull bans like those proposed by Mr. Steinhauser were defeated. That is because legislators understand breed bans don't work to make communities safe. Study after study has proven this. Dogs don't bite because of breed or appearance; they bite out of fear that could have been the result of poor socialization, neglect, abuse, tethering or confinement or isolation. In other words, it is the owner's negligent or criminal actions that are responsible, not the dog's breed or appearance.

Breed bans penalize responsible owners and mean the death of dogs that are not in any way dangerous. Breed discrimination is also very costly for communities. Think of it. It means taxpayers are paying animal control officers to run around and hunt down and kill dogs they think are pit bulls when we know even trained professionals cannot identify the breed of most dogs.

We would have like to see Mr. Steinhauser come to our Annual MCABSL BBQ Pit Event or Ernie Sims Pitbulls on Parade Event (in Tally). He would have the chance to meet dozens of Pit Bulls, Staffies and mixes and experience the true temperament and standard of these incredible dogs. We think if he had attended this event, he would have realized you can't predict whether a dog may bite based on appearance or breed or what you think the breed may be. He also would have had a great time with some wonderful dogs!

The other person quoted in the article is Ms. Janet Severt, from New Horizons Service Dogs in Orlando, Florida, She is quoted as stating that although she disagrees with the ban she would never train a Pit Bull as a Service Dog. But remember the Center for Disease Control states: "There is no accurate way to identify the number of dogs of a particular breed, and consequently no measure to determine which breeds are more likely to bite or kill." In some "Bite Lists" the top biters are Labs and Golden Retrievers which Ms. Severt recommends and trains as Service Dogs!

Again, it is not possible to predict whether a dog may bite based on appearance or some belief about breed.

There have been a number of Pits, Staffies and mixes who have been service dogs. There is Ruby who visited Hialeah Hospital and Ice Pop who constantly visits hospitals and has raised more than $10,000.00 dollars for charities by offering $1.00 per kiss…They were both rescued from inhumane conditions as pups. The list goes on...Pits, Staffies and their mixes make wonderful service dogs! Miami-Dade County's recognition that pit bulls can be service dogs proves how illogical and irrational the breed ban is. And how tragic for the dogs and the people who love them.


Respectfully,


Dahlia Canes~Edel Miedes-Directors
The Miami Coalition Against Breed Specific Legislation.
(305) 323~3960

for more information please contact the dept. ADA info line at (800) 514-0301 or (800) 514-0383 ada.gov

Wednesday, July 14, 2010
May 5, 2010

By Jared Jacang Maher, Face The State

Both Denver and Aurora have laws banning pit bulls. The breed, they say, is so
dangerous to the public that any dog displaying more than 50 percent of pit
bull-like features must be run from city limits or face extermination. But what
about a pit bull acting as a service animal for a disabled person? Should
officials accept dogs that their own laws deem inherently unacceptable?


Good question - and one that happens to be at the core of a new federal
class-action lawsuit filed against Denver and Aurora by three disabled people
who say the laws banning pit bulls violate their civil rights under the American
Disabilities Act. Allen Grider of Aurora and Glenn Belcher of Denver are U.S.
veterans who suffer from psychological disabilities they say resulted from
wartime service. Valarie Piltz is a Washington-based dog trainer with physical
mobility problems and a condition that causes her to experience debilitating
panic attacks. All three say the breed bans fail to make proper exemptions for
their service animals of choice: pit bulls.



Actually, in the case of Grider, it's Aurora animal control that deemed his dog
"Precious" a pit bull. The Vietnam vet says the dog is a boxer/lab mix
recommended by a VA social worker to help him manage his acute Post Traumatic
Stress Disorder and related mental disabilities. Among other acts, Precious is
trained to enter rooms and buildings ahead of Grider and perform nighttime
patrols in their Aurora apartment to ease his owner's persistent bouts of hyper
vigilance.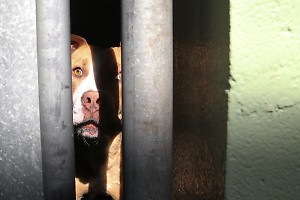 Grider claims that in November an officer with the Aurora Animal Care
Division used a false claim of an animal abuse report to gain access to Precious
and then seize the animal under the pit bull law despite Grider's insistence
that the dog is a service animal. During the 10 days that Precious was
impounded, Grider "suffered from severe anxiety stemming from his PTSD," says
the complaint. Officials released Precious only after Grider arranged for the
dog to live at a friend's house outside of Aurora.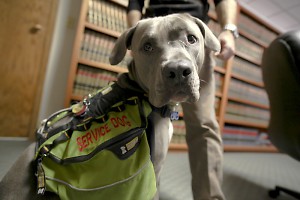 An agreement with Aurora allows Grider to have his dog while the lawsuit
proceeds, "but during the four or five months he was without his service dog, he
was living on the edge the whole time," says the plaintiff's attorney, Jennifer
Reba Edwards, of the Wheat Ridge-based Animal Law Center. Aurora says it will
allow Precious to stay in the city as a service animal, but only if he abides by
rules for dogs that are deemed vicious, stipulations that Edwards calls absurd.





"They said, 'You're going to have to get liability insurance. You're going to
have to keep her in a six-sided enclosure. You're going to have to muzzle her
whenever you take her anywhere.' A lot of these things defeat the purpose of
having a service animal, so they've really missed the whole point," says
Edwards.



Nine cities in Colorado have bans on pit bulls. Aurora's law, enacted in 2005,
also prohibits seven other so-called "fighting breeds" of dog, including the
American Bulldog, Presa Canario and Tosa Inu. While the Aurora law is the
broadest in terms of banned breeds, Denver's anti-pit bull ordinance was one of
the first in the nation when it was passed in 1989 and has been by far the most
controversial. Denver has killed more than 3,500 dogs, spent hundreds of
thousands of dollars in enforcement costs and faced a bevy of lawsuits from dog
owners and animal welfare groups to maintain the ban over the last two decades.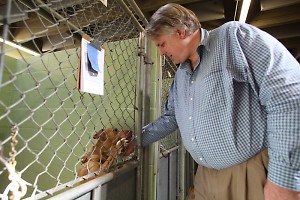 In January, the city paid $5,000 to settle with a woman who filed suit after
her dog was killed for being a pit bull. The city also agreed to formalize its
proceedings for impounding, assessing and ultimately destroying dogs it
considers to be pit bulls, a process dog owners have long criticized as unclear
and arbitrary. Dias v. Denver, another long-running lawsuit by pit bull owners
who says the ban unconstitutionally drove them out of the city, continues to
wind its way through the federal appeals court. According to the Denver Daily
News, the case has cost Denver at least $15,000 in legal fees. And the service
dog case could end up costing Denver even more; Grider et al are asking for
$75,000 and a permanent exemption to the pit bull ban for service dogs.



"I just want to know my dog and I are protected if we ever get stopped," says
Glenn Belcher, who suffers from depression, anxiety and physical disabilities
from an accident that occurred while he was serving in the Gulf War. His dog
"Sky" helps him with balance and walking up stairs, but largely the purebred pit
bull functions as a "therapy dog" when the 38-year-old gets hit with
debilitating panic attacks and night terrors. He was able to license Sky as a
service dog in Palm Springs, California. Belcher relocated to Denver last fall
and says he tried to obtain a similar license from Animal Care and Control but
was told by staff that he wasn't allowed under the city's pit bull ban. "I was
told to either live here by myself or get rid of my dog," says Belcher. Like
Grider, he has been granted a temporary stipulation to keep his dog for the
duration of the suit.


The third plaintiff, Washington dog trainer Valerie Piltz, was arranging a
trip to stay with her sister who lives in Denver last fall and was hoping to
bring her two pit bull service dogs, "Klicker" and "Powerball," that she has
trained to assist her with mobility and warn her of oncoming chemical imbalances
in her body that cause debilitating anxiety attacks. But when Plitz's sister
called Denver animal control, she says she was told by division director Doug
Kelley that the dogs would only qualify as service animals if Plitz were "blind
or deaf."



Neither the ADA nor Denver law makes any such stipulations for service animals
says Edwards. "Federal law defines a service animal as any guide dog, signal
dog, or other animal individually trained to provide assistance to an individual
with a disability," she says.



Because of the pending litigation, Kelley said he couldn't comment on any of the
cases. But he notes that there is no national program or database of service dog
certification and the open-ended language of the ADA makes it difficult for
local agencies to determine if a service animal is legitimate under federal law.
"We need to see some type of documentation that this is a bona fide service
animal," he says. This would be in the form of a doctor's letter stating the
patient would benefit from a service animal or papers showing that a particular
dog was trained specifically to help with their owner's disability. (In a phone
call to Denver animal control separate from Face the State's interview with
Kelley, a staff member explained to this reporter that the division "does not
accept letters from doctors saying you need a service animal. We only take
documents from certain training agencies." The staff member was unable to say
which agencies, just that "we know them when we see them.") And if the service
dog in question is a pit bull, the issue gets an even closer look from the city
attorney's office to make sure they stay on the right side of the the ADA.



But it may be Denver's policy that needs a closer look. Multiple court rulings
have held that businesses or other entities cannot demand proof of an animal's
service training as a stipulation to allowing individuals to keep their animal.



While Kelley says he gets occasional calls from people asking if the city will
allow them to bring their service dog pit bulls into the city despite the ban,
he says he has never officially refused a Denver service animal license
application because the dog was a pit bull. "We've never had any requests," he
says.



Contact the author at jared@facethestate.com or 720-279-9870 x106.
Labels: Pit Bull Ban
Wednesday, March 10, 2010
This blog is now located at http://blog.k9advisors.com/.
You will be automatically redirected in 30 seconds, or you may click
here
.
For feed subscribers, please update your feed subscriptions to
http://blog.k9advisors.com/feeds/posts/default.
K9 ADVISORS FEBRUARY NEWSLETTER


GIVE YOUR SWEETHEART A TRAINING LESSON! FEBRUARY 2010



HAPPY VALENTINE'S DAY EVERYONE!



Why not pamper you and your furry friend this Valentine's Day in a different way. Take advantage of our gift certificates today!

In This Issue



Miami Coalition Against Breed Specific Legislation




Quick Links



www.unitedagainstbsl.org

www.healthypetnet.com

www.myanimalsrock.org




Contact Us

www.k9advisors.com

www.admin@k9advisors.com






The Miami Coalition Against Breed Specific Legislation was founded in October of 2008. It first began when directors, Dahlia Canes and Edel Miedes partnered together to help stop the mistreatment of animals in the city of Miami. Their goal was to stop all breed discrimination and eventually overturn the Breed Specific Legislation ordinance in Miami Dade County. They were later introduced to a group of professional individuals who shared their same beliefs and passion. Among them are the MCABSL Board Members: Jesus Rivero, Jade Soto, Jessie Hernandez, Jeri Smith, Anne Shields, Kate Wruszak, Jorge Guerra and Eliana Ardila. Each has contributed to the very core of this organization and its progress. Together they are involved in changing the public perception of the many innocent dogs that are euthanized every day solely because of their breed. They are currently undergoing a long legal battle to repeal Breed Specific Legislation (BSL) in the city of Miami, Florida. This unjust ordinance prevents Miami Dade residents from owning American Pit Bull Terriers, Staffordshire Terriers and Staffordshire Bull Terriers. The law was first introduced in 1989 and has never been challenged until now. Many lives have been lost and are being affected daily as a direct result of BSL. We are dedicated to ending the suffering of the thousands of voiceless canines who are taken from their families and sentenced to death because of their breed. Through the implementation of education, awareness and responsible ownership, we hope to show the public the true nature of these loyal and loving animals. They deserve a chance at life and we intend to fight for their freedom. Take a stand against discrimination and help us save lives by supporting our cause. Remember that with a little love and dedication, anything is possible!



Our Motto: Promoting Awareness, Education and Responsible Ownership.



Mission Statement: To protect and preserve the lives of canines everywhere, specifically by vowing to eliminate Breed Specific Legislation from all parts of the world.







My Animals Rock is not a specific place--we do not have a shelter- -instead, we are a small network of people who volunteer our time and homes to save the lives of animals in need who are injured, abandoned, surrendered, or lost. We are dedicated to finding loving, permanent homes for unwanted animals and educating the public about the joy and love that rescue animals give and need. Our dream emerged one day as we, the dedicated, determined doggie duo, met each other walking dogs in our neighborhood. Each one of us walking three of our furry, four-pawed kids, or, to be more accurate, they were walking us. We had never met before, but we obviously had 3 things in common. Dogs, dogs, and dogs.

This serendipitous encounter was the first of hundreds of conversations, meetings and plans in which we mapped out our goal of saving the lives of any and all animals in need that cross our path ..... well, they don't always have to cross our path! Our goal is for our organization to serve as a vehicle by which we save many animals from death and suffering by rescuing, fostering and finding them loving permanent homes. We will assist any organization, shelter or individual by providing information and exposure for the animal in need. Along our journey we are committed to educate as many humans as possible regarding the humane treatment of animals and the dire consequences of the failure to spay and neuter companion animals. We welcome you to join us.

Donna Arce and Kathy Cremer -Co-founders/Directors



Article Headline

Pet Safety Tips

While pets can eat some of the same foods that we do, feeding pets food that we enjoy can be very dangerous, it can cause illness and sometimes death. below are a few items that you SHOULD NOT give to your dog.

• Chocolate - can cause seizures, coma and death

• Onions - Onions destroy red blood cells and can cause anemia

• Garlic - Onions destroy red blood cells and can cause anemia

• Animal Fat and Fried Fat Foods - Excessive fat can cause pancreatitis

• Macadamia Nuts - can cause weakness, muscle tremor and paralysis

• Bones - Some bones can splinter and cause damage to internal organs

• Avocado - can cause difficulty breathing and fluid in the chest, abdomen and heart

• Pear Pips - contain cyanogenic glycosides resulting in cyanide poisoning

• Kernel of Plums - contain cyanogenic glycosides resulting in cyanide poisoning

• Kernel of Peaches - contain cyanogenic glycosides resulting in cyanide poisoning

• Kernel of Apricots - contain cyanogenic glycosides resulting in cyanide poisoning

• Apple Core Pips - contain cyanogenic glycosides resulting in cyanide posioning

• Potato Peelings and Green Looking Potatoes

• Rhubarb Leaves

• Moldy / Spoiled Foods

• Alcohol

• Yeast Dough

• Coffee Grounds, Beans & Tea - can cause seizures, coma and death

• Hops (used in home brewing)

• Tomato Leaves & Stems - can cause tremors and heart arrhythmias

• Broccoli (Large Amounts are bad)

• Raisins - can cause kidney failure in dogs

• Grapes - can cause kidney failure in dogs

• Cigarettes, Tobacco and Cigars

• Xylitol ( sweetener found in sugar free gum)

If your dog has ingested any of these foods, get veterinary help immediately





VALENTINE'S DAY SPECIAL

RECEIVE A 20% OFF A FOUNDATION TRAINING LESSON. THIS LESSON WILL HELP CREATE A MORE LOVING AND STRONGER BOND BETWEEN YOU AND YOUR DOG.

Offer Expires: Enter Expiration Date here























Forward email



This email was sent to robinstein@bellsouth.net by k9advisor@yahoo.com.

Update Profile/Email Address
Instant removal with SafeUnsubscribe™
Privacy Policy.

Email Marketing by




K9 Advisor
1015 N. 13th Ave
Hollywood
FL
33019



[Delete]

Wednesday, September 30, 2009
Thanks for training Dakota today. I cant believe how fast you trained him, that was amazing
Labels: Dog Training
Saturday, April 18, 2009
Court Rules Miami-Dade County Pit Bull Ban Unenforceable
A court ruled Miami-Dade's 20 year ban on pit bulls was too vague in defining "pit bull" and unfairly let animal control officers basically guess whether a dog is a pit bull. This lawsuit pertained to a dog named Apollo specifically, and opens the door to a
broader lawsuit
against the ban. Miami Coalition Against Breed Specific Legislation (MCABSL) and Animal Law Coalition applaud a court ruling that the Miami Dade County Pit Bull ban is too vague, and the county cannot enforce the finding by animal control that a dog is a pit bull that must be euthanized or removed from the county. The ruling came in a case challenging the finding by Miami Dade County Animal Control that a family pet named Apollo was a "pit bull" that must be removed from the county or euthanized. The county bans all dogs that "substantially conform" to American Kennel Club standards for American Staffordshire Terriers or Staffordshire Bull Terriers or United Kennel Club standards for American Pit Bull Terriers. To determine if a dog substantially conforms to these standards, animal control uses a chart that lists 15 body parts such as "head", "neck", "lips", "chest", "eyes", "tail", "hind legs", etc. The officer places a check mark to indicate whether each characteristic conforms or not to a pit bull. If 3 or more characteristics are checked "conform", the dog is declared a pit bull. Rima Bardawil, the attorney for Apollo, pointed out that there is no such chart authorized by the ordinance and it is not clear what standards animal control is using in making its determinations. Also, Dahlia Canes, executive director of MCABSL, testified that animal control is "constantly" mis-identifying the breeds of dogs. She told the court about one dog that was declared by an animal control officer to be a pit bull mix and ordered euthanized. Canes arranged to have the dog re-evaluated and he was determined to be a mastiff mix. The dog was then adopted to a family in Miami-Dade County. In this case the animal control officer photographed Apollo from several feet away and then using the photo, picked 3 body parts he said he thought conformed to pit bull standards, whatever those are. As Canes pointed out later, "Many breeds of dogs and mixes have the same or similar traits. It is impossible to determine breed this way. Seriously, you are going to say a dog is a pit bull based on 3 traits like round eyes, broad shoulders and a muscular body? Dogs are many times genetically a mix of many different breeds. The judge agreed. This proves breed shouldn't be a factor in deciding whether a dog presents a danger." # # # Miami Coalition Against Breed Specific Legislation was formed in 2008 to end Miami Dade County's pit bull ban. For more information and how you can help, visit
www.mcabsl.wildapricot.org
Animal Law Coalition works to stop animal cruelty and suffering through legislation, administrative agency action, and litigation. ALC offers legal analysis of the difficult and controversial issues relating to animals. Visit
www.animallawcoalition.com
for more information.
Subscribe to Posts [Atom]